Gift giving doesn't need to be reserved for holidays or special occasions. Sometimes, a gift given for no reason is the most appreciated gift. People expect gifts during holidays, birthdays, or anniversaries but they rarely expect to get a gift for no specific reason. A gift given, out of the blue, says, "I care about you and I don't need any special occasion to show it."
Finding gifts for the avid writer can be a bit of a challenge. Of course you want to show that you're interested in what they do, and that you're paying attention to their passions. A well thought out gift is definitely more appreciated than something you pick up, on a whim, at your local card shop. Taking the time out of your busy schedule to find a relevant gift shows that you truly care.
There are many gift options, for the avid writer; here I will list a select few. This list is in no specific order but it will help give you some ideas as to what type of gift you can get for your loved one.
T-shirt – Most writers are extremely proud of what they do and they want to display it to the world, "I am a writer!" Why not get them a t-shirt? You can go one step further and have a shirt custom made. This way it will say exactly what you want.
Writer: Definition. Tee Shirt
by
AdeleCB
Browse other
Writer T-Shirts
Coffee mug – Caffeine tends to be a part of the average writers balanced meal plan, and should be consumed in large quantities throughout the day. If your loved writer is also a coffee lover, a coffee mug could be perfect.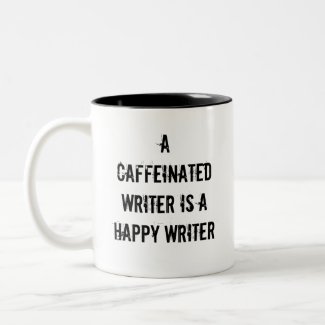 A Caffeinated Writer Is A Happy Writer Mug
by
BlayzeInk
Make
logo mugs
online.
Inspiration – For the enthusiastic writer, a little extra inspiration won't go amiss. Consider purchasing an inspirational book. These books can be found just about anywhere. Try the Amazon store for easy shopping.
[easyazon-block asin="B007YJEIAS" align="center"]
Office equipment – Writing can be rough on the wrists and having proper equipment can really help relieve the discomfort caused by typing for long hours. You could consider a gel wrist support or even an ergonomic keyboard, or mouse, which is designed to be used for long hours.
[easyazon-block asin="B003VOOOKY" align="center"]
[easyazon-block asin="B001FB6TRG" align="center"]
Laptop Bag – For the dedicated laptop writer, a laptop bag to carry their work around in might be suitable. These can range from a simple laptop bag to an extravagant carrying case which includes pockets for carrying things like papers, day planners, or even books.
[easyazon-block asin="B0015YMWYW" align="center"]
Paperweight – If all writers are like me, they could use a little something to help keep things in place. A paperweight can be a great gift, especially when it represents something that the writer really cares about.
[easyazon-block asin="B001G7YZZW" align="center"]
[easyazon-block asin="B0044CUCTY" align="center"]
Inspiration Cards – Being a writer can be difficult work. It's tough to find the strength to continue on, especially on those long, drawn out projects. Sometimes, a little pick-me-up is just what the doctor ordered. A nice set of inspiration cards can be appreciated time and time again.
Moo.com Gift Card – Gift cards aren't always the most personalized gift choice but they can be very thoughtful. A gift card from Moo.com will allow your writer to purchase a set of business cards to help them promote their writing business. Moo.com offers great, stylish, designs on their cards.
Desk Organizer – All of us could use a little more organization in our lives. A handy place to keep things like pens, paper clips, and sticky notes is a great way to help a writer get a handle on their desk. This witty "Butt Station" has to be my favorite!
[easyazon-block asin="B001LEZQA8″ align="center"]
Mug Warmer – The majority of people drink coffee, or tea, when they're trying to work. A USB mug warmer plugs right into the USB port on your computer and it keeps your hot beverage hot! Giving a writer one of these might just get you in the next title!
[easyazon-block asin="B000EGYRXQ" align="center"]
Gifts should come from the heart and should really focus on the person who you're buying for. Try to keep their likes, needs, and wants in mind when buying a gift for someone you care for. Remember, a well thought out gift will be very appreciated!